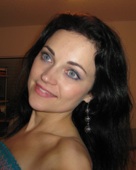 Applied Experimental and Human Factors
Psychology Ph.D Student
University of Central Florida
Department of Psychology
M.S., Industrial & Organizational Psychology, Carlos Albizu University
B.A., Psychology, Florida International University



Jurate is multilingual industrial psychology professional, applied researcher and entrepreneur, with experience in both individual and organizational performance assessment, intervention and change management. Jurate has attained her Master of Science degree in Industrial and Organizational Psychology and is a Doctoral Candidate in the Applied Experimental and Human Factors Psychology Program at UCF.
Jurates research topics include individual differences in human performance, diversity and culture, macroergonomics and their impact on safety and resilience in the complex industrial systems. Dissertation research area: Organizational Safety Culture and Resilience Assessment.
Her professional role as Senior Industrial Human Performance Advisor in the Global Environmental Health and Safety Programs at Siemens, offers for a real world application, where Jurate is leading human performance workshops, developing advanced human factors modules, as well as routine investigation tools and training, all to fortify the organizational resilience. She serves as the human factors expert on various committees and assessment teams in the USA and Europe, is a frequent contributor to the Zero Harm Culture @ Siemens communication and learning efforts; that includes speaking on the subject at the external international safety conferences and roundtables.
Jurate believes that the strength of the organization lies in its ability to embrace all aspects of diversity. She serves as Community Lead Officer at the Disability Awareness and Support Network, is Co-Producer of the Disability Awareness Month @ Siemens and is active in many other diversity related initiatives.
Jurates recent entrepreneurial venture combines her expertise, experience and insights, but foremost her love and devotion to what is regarded by society as anomalous and labeled as disorder or disability. Jurate has founded a career services organization, to serve Autistic (ASD) community globally.