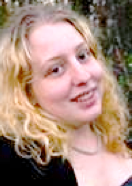 Psychology Undergraduate Student
University of Central Florida
Department of Psychology
Jacquelyn Cook is currently a senior pursuing her B.S. in Psychology. She has been a part of the RCTA Human-Robot Trust Project in the MIT2 lab since Spring 2011. While at the lab, Jacquelyn has collected research for a meta analysis and has performed various other tasks related to human interpersonal trust and human-animal trust. Her primary research interests include leadership, human factors and industrial/organizational psychology. Jacquelyn plans to pursue a Ph.D. in Industrial/Organizational Psychology after her career as an undergraduate at UCF. In her free time, Jacquelyn enjoys playing video games and writing.