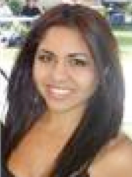 Psychology Undergraduate Student
University of Central Florida
Department of Psychology
My name is Maria Barrera, and I am a junior at the University of Central Florida.
I am majoring in Psychology, and I aspire to attend graduate school to focus more on clinical studies. I am currently a research assistant, and I hope to gain valuable experience that I can apply toward future research in the area of substance abuse, in which I have a particular interest.